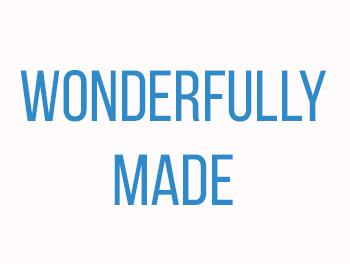 "I am fearfully and wonderfully made"
Psalms 139:14
We just completed "A Masterpiece" in our last study and this verse was covered.  Now, let's dive even deeper into this verse and how we are fearfully and wonderfully made.
FEARFULLY | adverb | extremely | apprehensively, timidly, hesitantly
The word fear can have a negative impact on our thoughts; although, to fear God is to respect and is a wonderful thing.  So, we were made with a huge amount of respect…extremely…not with anxiety.
Let's read all the way back to Genesis 1:26-28:  Then God said, "Let Us make man in Our image, according to Our likeness; let them have dominion over the fish of the sea, over the birds of the air, and over the cattle, over all[b] the earth and over every creeping thing that creeps on the earth." So God created man in His own image; in the image of God He created him; male and female He created them.  Then God blessed them, and God said to them, "Be fruitful and multiply; fill the earth and subdue it; have dominion over the fish of the sea, over the birds of the air, and over every living thing that moves on the earth."
We were created in His image.  Let's Pause in this for a second. The God of the Entire Universe isn't really going to throw something together haphazardly.  We were well planned out and thought out.  We were "fearfully" made.
WONDERFULLY | adverb | in a way that inspires delight or admiration | extremely well
Let's read Psalm 65:5-8: "You answer us with awesome and righteous deeds,
    God our Savior,
the hope of all the ends of the earth
    and of the farthest seas,
6 who formed the mountains by your power,
    having armed yourself with strength,
7 who stilled the roaring of the seas,
    the roaring of their waves,
    and the turmoil of the nations.
8 The whole earth is filled with awe at your wonders;
    where morning dawns, where evening fades,
    you call forth songs of joy."
Think of the most wonderful thing on Earth, which you admire.  It may be a child, sunsets, butterflies, the mountains. We are in this category.  We are wonderfully made.
Lord, I am humbled.  Thank you for choosing to create us.  Thank you for creating me. I know I do not see me as you do.  I know I cannot fathom that I am fearfully and wonderfully made, but I'm thankful for your gentle ways in trying to show me.  Thank you for letting me rest in your arms, as you make me feel safe.  I appreciate every second with you.  Please know, when I'm not 100% focused on you, that you are the love of my life and I'm so grateful that you call me yours.  Forever.  In Christ's Name, Amen.