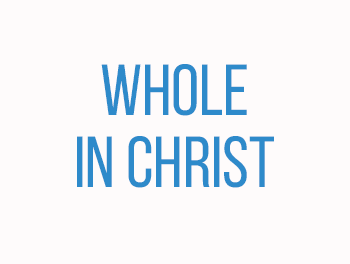 "In Christ you have been brought to fullness"
Colossians 2:10
IN | preposition | expressing the situation of something that is or appears to be enclosed or surrounded by something else | within, inside
We are enclosed and surrounded by Christ by the Holy Spirit. Because we are in Christ, we have been brought to fullness.
BROUGHT | verb | past tense of bring, make someone or something move in a particular direction or way | escort, conduct, guide
FULLNESS | noun | state of being whole  | completeness, thoroughness
So, in Christ Jesus, we have been moved into a state of being whole.
Let's read I Thessalonians 5:23-25: "23 Now may the God of peace Himself sanctify you completely; and may your whole spirit, soul, and body be preserved blameless at the coming of our Lord Jesus Christ. 24 He who calls you is faithful, who also will do it."
I can't believe this is our last bible study dissecting our identity in Christ.  I hope you have loved every second.  This has been a foundation for building (present tense) my relationship with Christ.  If I could truly wrap my head around my identity to Christ, my life would be, and look, so much different.
Let's read Ephesians 4: 17-24:
17 Now this I say and testify in the Lord, that you must no longer walk as the Gentiles do, in the futility of their minds. 18 They are darkened in their understanding, alienated from the life of God because of the ignorance that is in them, due to their hardness of heart. 19 They have become callous and have given themselves up to sensuality, greedy to practice every kind of impurity. 20 But that is not the way you learned Christ!— 21 assuming that you have heard about him and were taught in him, as the truth is in Jesus, 22 to put off your old self, which belongs to your former manner of life and is corrupt through deceitful desires, 23 and to be renewed in the spirit of your minds, 24 and to put on the new self, created after the likeness of God in true righteousness and holiness.
My prayer is for us to understand our Identity in Christ, and to be renewed in the spirit of our minds.  We were created after the likeness of God…and I hope we can wrap our heads around what this means.
Our Identity is in Christ.
Lord, my heart craves and desires to see myself as you see me.  To see Christ, not the flesh, the ego, the bones.  I pray I may surrender to you, to your will and to your mission.  I want to be a warrior for you.  Lord, use me as a powerful instrument. I understand that I am made whole in Christ, and that it is finished. I do not have to do anything, think or control anything…that you are in control.  I am humbled in how you know my every thought, and care for everything that concerns me.  Thank you for your grace, and your nonstop unconditional love, as I stumble around trying to learn.  In Christ's Name, Amen.