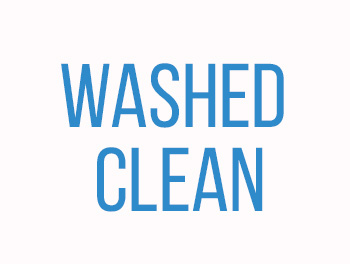 "Though your sins are like scarlet, they shall be as white as snow; though they are red as crimson, they shall be like wool."
Isaiah 1:18
2 words are used here to explain our sins:
SCARLET | noun |  a brilliant red color | red, wicked, heinous
CRIMSON | noun |  a rich deep red color inclining to purple | deep red color
Sheep, wool, snow…these are all word pictures used back in biblical times which can be imagined even today.  Except in Biblical Times, we didn't have Shout*  or Clorox Bleach to remove red, scarlet blood stains.
Scarlet and crimson are the most deep, brilliant color imaginable…the color of blood. Jesus died on the cross so our sins are wiped clean.  It's not a little bit of a smudge, or tiny bit of sinning…it's deep, and dark.
We are not even responsible for trying to get rid of our stain…our sin. No soaking, no rubbing, no trying and retrying, it'd done.
Let's read I John 3: 3-5:
 "All who have this hope in him purify themselves, just as he is pure. Everyone who sins breaks the law; in fact, sin is lawlessness. But you know that he appeared so that he might take away our sins. And in him is no sin."
PURE | adjective |  pure of any contamination | clean, clear, fresh, untainted
Let's imagine a thick, red crimson blood stain on clean, pure white wool again. Jesus gets rid of it completely.  It's not tainted.  You can't see the stain.  There is no evidence left.
We may still know that the stain happened, and it was there…but others would not know. It's like our Father God. Because of Jesus, He sees us as forgiven, white as snow.  We may still see our sin…but that is not our identity in Christ.  Our identity is Washed Clean.
Before Christ died on the cross…washing clean was a ritual followed before entering into the presence of God. Let's look at Leviticus 16:4:
"He shall put on the holy linen coat, and he shall have the linen breeches on his flesh, and shall be girded with a linen girdle, and with the linen turban shall he be attired: these are holy garments; therefore shall he wash his flesh in water, and so put them on."
This could be an entire Bible Study series (& I encourage you to study if you feel led!!)…but cleanliness is associated with holiness.  We are washed clean, and stand pure in His sight.  Since Jesus died on the cross..we have direct access to God.  No religious rituals needed…we can talk to the King of Kings directly..because we are washed clean!
Lord, what a blessing that we don't have to rely on religious rituals to gain access to you.  I can't even imagine not being able to say this prayer directly to you.  You hear me, you see me, you love me.  You don't see my sin.  You can't hear my ugly thoughts and feel my wretched heart…I've been washed clean.  I'm no longer scarlet or crimson, stained with sin…but washed clean with Jesus' blood so that I'm white as snow.  Thank you for sending your son.  I can't even imagine the ultimate sacrifice. I don't want to take it for granted.  Please know my heart, and know that I love and adore you with everything that I am.