A Temple of the Holy Spirit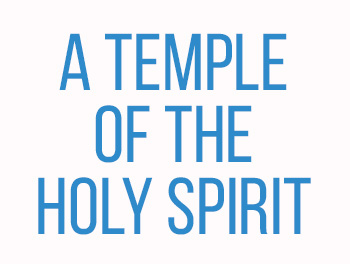 "Do you not know that your bodies are temples of the Holy Spirit, who is in you, whom you have received from God?"
I Corinthians 6:19
Wow, our bodies are temples of the Holy Spirit. Let's dissect those last few words.
TEMPLES | noun |  a building devoted to worship | shrine, sanctuary, church
OF | preposition |  indicating the material or substance constituting something 
HOLY SPIRIT | noun |  God's power in action | hands, breath
We are a structure full of God's power. It's hard to even wrap our heads around God's power, but let's read Jeremiah 10:12.
"But God made the earth by his power; he founded the world by his wisdom and stretched out the heavens by his understanding."
Genesis 1:1 "In the beginning God created the heavens and the earth."
Now…let's take it 1 step further.  Let's read Romans 12:4-5. "For just as each of us has one body with many members, and these members do not all have the same function, so in Christ we, though many, form one body, and each member belongs to all the others." and Colossians 1:18 states "And he is the head of the body, the church; he is the beginning and the firstborn from among the dead, so that in everything he might have the supremacy."
Okay, let's stop a second.  As Christians, we are all individual temples of the Holy Spirit, yet one in Christ, with him being the head and leader of us all.
Ephesians 3:6 states, "This mystery is that through the gospel the Gentiles are heirs together with Israel, members together of one body, and sharers together in the promise in Christ Jesus."
Ephesians 1:22-23, "And God placed all things under his feet and appointed him to be head over everything for the church, which is his body, the fullness of him who fills everything in every way." 
Jesus understood his mission and how it would be fulfilled before He died on the cross, Matthew 28:18, "Then Jesus came to them and said, "All authority in heaven and on earth has been given to me."
Our identity is We Are a Temple of the Holy Spirit.  We have Power through Jesus.
"In him and through faith in him, we may approach God with freedom and confidence." Ephesians 3:12
How many times do I think I am alone on this Earth.  Powerless.  Stuck. Firstly, I have Christ…but I also have this huge body of believers who are united with me.  Wow.  I truly have not grasped my identity in Christ yet.
Lord, thank you for your son who died on the cross and is seated on the right hand of God.  Thank you that through Him, we have power to move mountains.  Lord, please allow me to see that I am not in control, that you are massive, powerful and mighty.  Please show me how I am not alone and I don't have to do life alone.  Please let me submit to the Holy Spirit and to know I am not defeated.  Please allow me to take care of my temple so the Holy Spirit can move freely.  Please forgive me for any sins or any ways that may be blocking the way.  I can be self absorbed, selfish and my thoughts are not above this Earth. I would be honored to be used an instrument…may be an extension of your Hands, Your voice…Your power.  I give you my life…my everything.