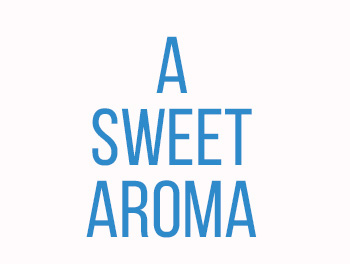 "For we are the pleasing aroma of Christ among those who are being saved and those who are perishing!"
2 Corinthians 2:15
AROMA | noun | a distinctive, typically pleasant smell | fragrance, smell, perfume
When I think of aromas, food is my number 1.  I am a self proclaimed foodie, and love everything about food.  I love how it brings people together in any culture.  The texture, the taste…and the smell!
Our taste of food largely depends on the smell, and can immediately affect the way we experience a dish.
Thinking of how this relates to Christ…is a pretty cool concept. We don't even have to say anything (which is true 100% of the time!)…and Christ makes Himself known.  There is a fragrance.
Looking at Old Testament scriptures, the use of incense was an important part of the ritual in the Holy of Holies, the place where Priests would pray to God. Incense was a "pleasing" aroma to the Lord on High…and represented the prayers of His people. It's no mistake, we are also called the aroma of Christ. He is our mediator, the one who sits on the right hand side of God…pleading for our prayers.
Let's read Matthew 5:14-16:
"You are the light of the world. A town built on a hill cannot be hidden. Neither do people light a lamp and put it under a bowl. Instead they put it on its stand, and it gives light to everyone in the house.  In the same way, let your light shine before others, that they may see your good deeds and glorify your Father in heaven right?"
We walk into a room….and the fragrance of Christ is present…and our light shines.
I'll be honest, it's hard to think these thoughts, and not make it about me.  I often get caught in the trap of "trying super hard."  I love the children's song, "This little light of mine…I'm going to let it shine!"…but at the end of the day, I'm not doing anything…God does everything. We just need to show up.  Be Present.  Let Him do the work for us.
I don't know about you, but I don't want to put a "bad taste in someone's mouth" but I know I don't have control.  I feel like this is a good time to remember one of the favorites, Psalm 46:10.
He says, "Be still, and know that I am God;
    I will be exalted among the nations,
    I will be exalted in the earth."
Lord, you are powerful, mighty and excellent in all of your ways.  Thank you for being a fragrance for all of those around us.  We are amazed how you constantly chase us.  You want us to be in your arms. May we run to you and let you hold us close. Thank you so much, that this world is not about me.  Thank you for your patience while I realize the power in those simple words.  I love you with all of my heart, and thank you for your mercy, and unconditional love.  In Christ's Name, Amen.