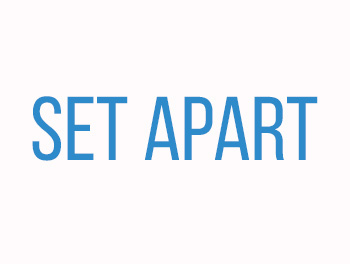 "You are a chosen race, a royal priesthood, a holy nation, a people for his own possession."
1 Peter 2:9
We are set apart…we are different…we are special.  Who doesn't like to feel special? Let's look at the defining verse and all of the definitions of being set apart.
CHOSEN RACE | noun |  the Jewish people considered as having been selected by God for a special relationship
One of the most confusing concepts to wrap our head around, but the Jewish are the chosen ones.  But the good news, is we were adopted into the family through Christ.
Let's read Ephesians 1:4-5: "Even before he made the world, God loved us and chose us in Christ to be holy and without fault in his eyes.  God decided in advance to adopt us into his own family by bringing us to himself through Jesus Christ. This is what he wanted to do, and it gave him great pleasure." 
It's no mistake, we are in the family. We are adopted.  Therefore, we are the chosen race.
1 Peter continues on to say, we are "a royal priesthood".
ROYAL | adjective |  having the status of a king or queen | regal, sovereign 
PRIESTHOOD | noun |  the office or position of a priest  
This one may be stretching it a bit to understand.  We are a royal priesthood? So, we have the status of a king or queen, holding a position of a priest?
Let's read Exodus 19:6, when God was speaking to Moses about the Israelites, "you will be for me a kingdom of priests and a holy nation.' These are the words you are to speak to the Israelites."
We will be a kingdom of priests…this was a promise from God.
Now, let's read Hebrews 4:14: "Therefore, since we have a great high priest who has ascended into heaven, Jesus the Son of God, let us hold firmly to the faith we profess."
So, Jesus is the great high priest, and we are in him, we are his sisters and brothers in Christ; therefore, we are also priests, an entire family full of royal priesthood.
Let's look at the next definition in 1 Peter, we are "a holy nation."
HOLY | adjective |  consecrated to God | sacred, blessed, dedicated 
We are a nation, a large group of people, who have been consecrated to God. We are connected.  We are His.
It's not a "holier than thou", we are better than anyone else…we are dedicated to God.  We are blessed.
Our verse today continues to read, we are a "people of his own possession."
Let's read Isaiah 19:25: "For the LORD of Heaven's Armies will say, "Blessed be Egypt, my people. Blessed be Assyria, the land I have made. Blessed be Israel, my special possession!"
We are His! We are his own possession.
OWN | adjective |  used with possessive to emphasize that someone or something belongs or relates to the person mentioned
POSSESSION | noun |  an item of property, something belonging to one |  property
We are his kids.  We are his nation. We are his possessions, and he wants us.
In a disposable world, where things are tossed quickly if it's not perfect, it's hard to imagine the King of Kings wants us forever.
In a world where conditional love is normal, and love is not patient or kind, it's hard to grasp that our Heavenly Father will not let us go.
We are set apart, special, in His eyes, and it can't be changed.
 Lord, thank you for making a promise to adopt us.  Thank you for Jesus who died on the cross, who has made this possible.  Thank you for our identity in him.  We are set apart. We are not disposable in your eyes, and you love us unconditionally.  May we live like those who are royal priesthood.  May we have confidence to know, we are a chosen race, and a holy nation.  Thank you for choosing us.  Thank you for owning us.  We are yours, 100% of everything is yours.  We give it all to you.  We pray this in Jesus' name, the Royal Priest above all. Amen.