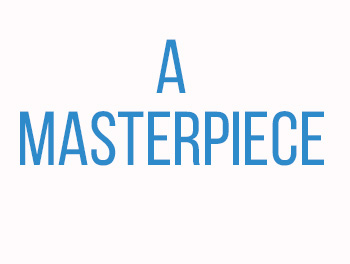 "For we are God's Masterpiece.  He has created us anew in Christ Jesus, so we can do the good things he planned for us long ago."
 Ephesians 2:10
MASTERPIECE | noun | an artist's or craftsman's best piece of art |  tour de force, magnum opus 
Leonardo da Vinci, the artist of the Mona Lisa and the Last Supper. The Starry Night by Vincent van Gogh. Creation of Adam by Michelangelo. The Magic Flute by Mozart. These are genius pieces of art.
Although, the King of Kings, and the creator of the entire universe, calls us His Masterpiece.  He's made a lot of stuff!
Let's read Psalms 139: 13-14: 
For you created my inmost being;
    you knit me together in my mother's womb.
I praise you because I am fearfully and wonderfully made;
    your works are wonderful,
    I know that full well.
I'll never forget the first time I heard this verse.  It really touched me and it still does today.  It's humbling to think the King of Kings specifically wanted you here on Earth.  He created you and knit you together in your mother's womb. The next part is what this entire study is about…we are fearfully and wonderfully made!
Let's read 1 more verse about our Creator in Isaiah 64:8: "Yet you, LORD, are our Father. We are the clay, you are the potter; we are all the work of your hand."  Humbling.  There's no such thing as coincidence when it comes to you and I being created.
So, if we are the Masterpiece of the Creator of the entire universe.  Why are we here?
Let's reread our verse of the day, Ephesians 2:10: "For we are God's Masterpiece.  He has created us anew in Christ Jesus, so we can do the good things he planned for us long ago."
ANEW | adverb | in a new or different, typically, more positive way |  again, afresh, once more
Let's read I Corinthians 15:45: "So it written, "The first man Adam became a living being"; the last Adam, a life-giving spirit."
So, God didn't make a mistake. Adam and Eve were created as living beings, then Jesus became the life-giving spirit.  We, in Christ…are a better version of Adam.  We are anew.  and for the purpose to do the good things he planned for us long ago as it states in verse of the day.
Jesus told us clearly about the plan in Matthew 28: 18-20: "Then Jesus came to them and said, "All authority in heaven and on earth has been given to me. Therefore go and make disciples of all nations, baptizing them in the name of the Father and of the Son and of the Holy Spirit, and teaching them to obey everything I have commanded you. And surely I am with you always, to the very end of the age."
Lord, thank you for creating me as your masterpiece.  I'm so thankful to know you were with me in the beginning and will be with me to the end.  I pray you give me your heart to serve.  I pray that you give me a heart to go and make disciples of all nations.  It's not a coincidence we are on this Earth at this particular time.  Nothing is a mistake.  My I submit to your will, and follow your lead.  I am yours.  In Christ's Name, Amen.