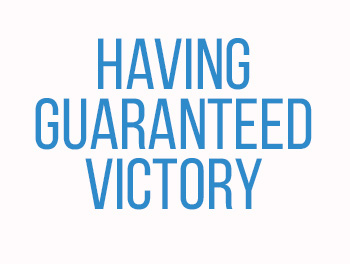 "You have given me your shield of victory. Your right hand sustains me, you swoop down to make me great."
Psalm 18:35
GIVE | verb | freely transfer the possession of something to someone |  supply with, furnish with, provide with
God has given us his shield of victory.  According the above definition, God has "freely transferred the possession" of his shield of victory to us. So, let's define shield and victory.
SHIELD | noun | a person or thing providing protection |  guard, defense, security, shelter 
VICTORY | noun | an act of defeating the enemy or opponent in a battle |  success, triumph, conquest 
Sometimes I take things too literal.  When I imagine a shield, I think of the actual silver, big shield used by the knights centuries ago.  When I read this definition, it made so much more sense.
God is providing us protection through Victory.  The battle has already been one against our enemy.  We don't need anything else.
Let's read I Corinthians 15:57: "But thanks be to God! He gives us the victory through our Lord Jesus Christ."
and now let's read Isaiah 42:13: "The LORD will go forth like a warrior, He will arouse His zeal like a man of war He will utter a shout, yes, He will raise a war cry He will prevail against His enemies."
and  lastly, Romans 16:20: "The God of peace will soon crush Satan under your feet The grace of our Lord Jesus be with you."
Do you see the Victory?  Can you see how this would be a shield for us?
Reading the rest of our verse of the day, I love how it continues on with "Your right hand sustains me, you swoop down to make me great."
SUSTAINS | verb | strengthen or support physically or mentally |  comfort, help, assist, support 
SWOOP | verb | move rapidly downward through the air |  dive, descend, plunge
According to these definitions, The King of Kings, "supports, comforts and helps" us with His right hand, while plunging down to us on Earth to make us great.  Doesn't that give you comfort?  We are not abandoned, we are not in this life alone, and we are already walking in victory.  Come on brothers and sisters, let's stand confident.
Lord, thank you for your shield of Victory. I'm so thankful for your protection, and for your mighty right hand which sustains me. May I know in my heart of hearts, you are the ultimate warrior and will protect me at every cost.  Thank you for the simple truth that the fight has already been won.  You've already defeated all my enemies.  I don't have to walk around defeated, but I can walk with confidence. I want to rest in your arms with full comfort of knowing you won't ever leave me or forsake me.  Thank you for your nonstop guidance during this journey.  I love you.  In Christ's Name, Amen.