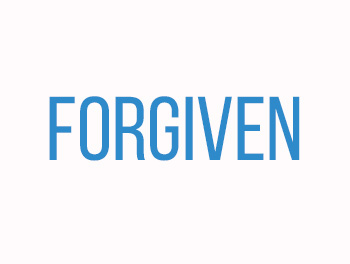 "He himself bore our sins in his body on the cross, so that we might die to sins and live for righteousness; by his wounds we are healed." I Peter 2:24
When John the Baptist saw Jesus, he proclaimed in John 1:29, "Look the Lamb of God, who takes away the sin of the world."
Throughout the old testament, a goat or lamb was used to shed blood to atone for their sins. Hebrews 9:22 clarifies "the law requires that nearly everything be cleansed with blood, and without shedding of blood there is no forgiveness."
Jesus was the ultimate sacrifice, the one and only…and the last.  We are forgiven!
FORGIVEN | verb |  a cancelled debt,  to stop feeling angry or resentful | overlook, disregard
and 1 Peter says that we die to sins in Forgiveness, so we can live for Righteousness.
RIGHTEOUSNESS | noun |  the quality of being morally right or justifiable | right, honesty
We don't have to "try to be right"…we are! We have already been justified.  By his wounds, we are healed!
I don't know about you, but for so much of my life, because I'm a "doer", I was in a constant state of "trying to do the right thing". I don't have to try, I just need to surrender.
Let's look at Romans 9:22, "But now that you have been set free from sin and have become slaves of God, the benefit you reap leads to holiness, and the result is eternal life."
SLAVE | noun |  a person who is excessively dependent upon or controlled by something | devotee, worshiper
Surrendering and becoming a slave of God, is not a bad thing. I love to control everything around me, but the longer I try to take control, the worse the flop and failures come.  The older I get, the more I enjoy not being in control and surrendering. I love having God as my master, one who I worship with all of my heart. How about you?
Lord, thank you for your son Jesus who died on the cross to bear all of our sins. Thank you that by his wounds, we are healed. May I walk in righteousness towards holiness with you as my Master. I don't want control anymore, I want to be a slave to you…completely dependent on you for everything. I want to worship you with all my heart, body. mind and soul without hesitation. Thank you for your patience as I continue to learn what it means to be a disciple, a true follower, a devoted worshiper of you. Thank you for your love as I continue to "try hard" until I realize I truly just need to surrender. I owe you everything, yet you did it all for me.  Thank you.