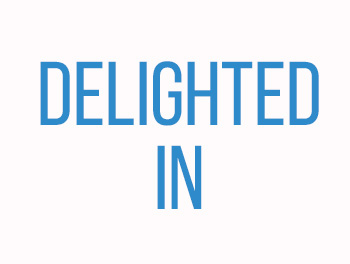 "The Lord your God is with you, the Mighty Warrior who saves. He will take great delight in you; in his love he will no longer rebuke you, but will rejoice over you with singing."
Zephaniah 31:3
He's with us, the Mighty Warrior who saves and He will take great delight in us.
DELIGHT | verb |  to please someone greatly | charm, enchant, captivate
Can you imagine the Lord God captivated by us?  I know I struggle with being hard on  myself.  I am constantly trying to be perfect…and the King of Kings is just purely delighted in me.
The word "great" came up twice with "He will take great delight in you" and also in the definition of "to please someone greatly"
GREAT | adjective |  of an amount above the normal or average | significant, special, considerable
His delight is not average, it's above average. It's significant captivation. The thought is so humbling.
Let's look at Micah 7:18-19:
"Who is a God like you, who pardons sin and forgives the transgression of the remnant of his inheritance?
You do not stay angry forever but delight to show mercy. You will again have compassion on us;
    you will tread our sins underfoot and hurl all our iniquities into the depths of the sea."
Our God is not one who is sitting on a throne, waiting for the opportunity to punish.  He delights to show mercy. With the death of his son Jesus, our sins are underfoot…which means he has hurled all of our iniquities into the depths of the sea.
Let's go back to the second part of Zephaniah 3:17 where it says "he will no longer rebuke us, but rejoice over us with singing"
My ESV Version states, "He will quiet you by his love; he will exult over you with loud singing."  The first word picture I see with this verse is a parent with a newborn baby. Isn't it amazing, when there is a crying baby…the power of a mother as soon as she picks up the child.  The baby (usually!) is instantly quieted…and isn't it a constant theme where the mother sings over the child to continue the soothing love?
Our Father in Heaven…is delighted in us…quieting us with his love…and soothing us with his singing.
Studies shows singing over an infant can help optimize its mood and strengthens the emotional bond. Let's open up our heart and ears and hear our God soothing us with praises.
Let's read 2 Corinthians 1:3-4 to close:
"Praise be to the God and Father of our Lord Jesus Christ, the Father of compassion and the God of all comfort, who comforts us in all our troubles, so that we can comfort those in any trouble with the comfort we ourselves receive from God."
Lord, it's hard to imaging you delighting in me; I am humbled. Thank you for quieting me with your love, and rejoicing over me with singing.  May I rest in this peace and love. Thank you for being my refuge and strength. May I stay in your arms, my comforter, my soother, my Father. Thank you that you do not stay angry forever and have allowed our transgressions to be thrown into the depths of the sea. Thank you for your son Jesus Christ who died on the cross so this could happen. I stand confidently in this truth and welcome your delight. I pray my footsteps will be full of fruit, and beg the Holy Spirit to guide every step along my journey.