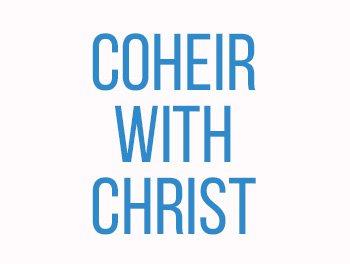 "Now if we are children, then we are heirs-heirs of God and co-heirs with Christ."
Romans 8:17
Wait a second…we are co-heirs with Christ? What does this even mean?
COHEIR | noun |  a joint heir 
HEIR | noun |  a person inheriting and continuing the legacy of a predecessor | successor, inheritor
If we are heirs…what is our inheritance?
I Peter 1:3-4 says, "Praise be to the God and Father of our Lord Jesus Christ! In his great mercy he has given us new birth into a living hope through the resurrection of Jesus Christ from the dead, and into an inheritance that can never perish, spoil or fade. This inheritance is kept in heaven for you."
According to Matthew 25:34, it's the kingdom prepared for us since the beginning of time. It's another promise which solidifies our purpose is eternal…not of this earth.
Colossians 1:23-24 states, "Whatever you do, work at it with all your heart, as working for the Lord, not for human masters, since you know that you will receive an inheritance from the Lord as a reward. It is the Lord Christ you are serving."
There are many times when I'm working for man.  I finish a project in hopes of making a client happy.  Sometimes, I will admit, I get excited when I sign a high dollar contract.  I forget who I'm working for here on earth…and forgot my mission.  The blessing is we received the Holy Spirit as a witness for accountability.
Let's read Ephesians 1:13-14.
"And you also were included in Christ when you heard the message of truth, the gospel of your salvation. When you believed, you were marked in him with a seal, the promised Holy Spirit, who is a deposit guaranteeing our inheritance until the redemption of those who are God's possession—to the praise of his glory."
This is a perfect example of how God continually reminds me about my identity.  I feel convicted about how my heart is not in the right place, and then he reminds me…it's okay…he has my back.  So, in this verse, he reminds me…the Holy Spirit was the seal…a deposit guaranteeing our inheritance.
SEAL | noun |  a thing regarded as a confirmation or guarantee of something | consent, agreement
GUARANTEE | verb | promise with certainty| promise, pledge, vow
We have been promised by the King of Kings regarding our inheritance in Heaven. We are co-heirs with Christ. So hard to believe…but it's the truth.
Lord, I am humbled by the promise of our inheritance. Thank you for giving us your Holy Spirit, our seal…our deposit of guarantee, who constantly reminds us about our true identity. Thank you that our home is not here, and this is not what it's all about.  Thank you for the reminder about working with all of my heart for you.  My mission is to work for you…not for me, not for man…for you.  Thank you for the promise of Heaven as a reward.  Heaven is worth fighting for…it's worth waiting for..and worth every blood, sweat and tear.  What a blessing to be a co-heir with Christ in this amazing inheritance.  Thank you, Lord.