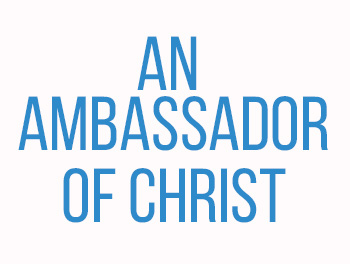 "We are therefore Christ's ambassadors, as though God were making his appeal through us."
2 Corinthians 5:20
Ambassador sounds so regal.  I think of political leaders of countries. It's quite a powerful word to use  explain our identity in Christ.
AMBASSADOR | noun | a person who acts as a representative or promoter of a specified activity | campaigner, champion
My husband and I lived in Australia for 3 years, during a time of war which Americans were not highly favored. My husband and I were highly aware that anything we did, represented our fellow Americans back at home.  We were extra sensitive, and extra careful about our actions and words.
I remember reading this verse while we were living there, and it impacted my heart greatly.  I should be this aware about how my actions as a Christian can impact for the glory of God. It's not about me, it's about Him!
I often will say, "if there's anything good out of me at all…it's 100% because of God."
Let's read Ephesians 6:19-20 verses from Paul: "Pray also for me, that whenever I speak, words may be given me so that I will fearlessly make known the mystery of the gospel, for which I am an ambassador in chains. Pray that I may declare it fearlessly, as I should."
I have not been in jail in chains, but I imagine it's pretty uncomfortable.  I think it would be easy to be consumed in your own thoughts, and being full of sorrow, especially if you're in jail because of the gospel. Yet Paul, knew his position.  He was an ambassador for the gospel. Whatever he did, would ultimately reflect God.  He did a pretty amazing job, right?
How about us?
Let's read the second half of our verse today, "as though God were making his appeal through us."
MAKING | verb |  causing something to exist or come about | create, generate, develop
APPEAL | noun |  a serious or urgent request, typically one made to the public | entreaty, cry, call, petition
THROUGH | preposition |  moving in one side and out the other side of an opening| into and out of
God is creating an urgent cry to His children through us.
Wait, the King of Kings has appointed us Ambassadors of Christ because He loves the world so much?
This is not a hateful, ugly God who just wants to punish at will.  He so desperately wants us in His arms, and He is making an appeal through us!  If this doesn't take our eyes off ourselves, I don't know what will.
As much as I want things to be about me, it's really not.  We are selfish, and it's not easy to think of others…but this gives a burning in my belly to stand up, be confident, and become the ambassador which God has intended.
Oh Lord, thank you for your deep love for us.  Thank you for your ways, and thank you that they are not my ways.  May I step out of the spotlight, step out of my selfishness, and surrender to what you want to do.  I would love to have the same mission heart as you, and desire for all to know you. Thank you for the important task of being an ambassador for you…and thank you that I don't have to do anything.  You do it all. I am humbled and I am in awe of you, my King above all Kings, name above all others here on Earth. In Christ's Name, Amen.