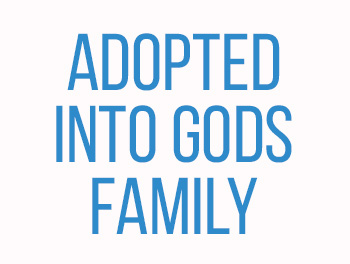 "The Spirit you received brought about your adoption to sonship. And by him we cry, "Abba Father."
Romans 8:15
We are adopted into God's family.
ADOPT | verb |  legally take another's child and bring it up as your own | choose, select
The verse furthers the adoption to "sonship" which is the relationship between a father and a son.  Because of the Holy Spirit, we received the same relationship as Jesus and our Lord God.
When we look at the relationship between Jesus and his father, it was evident how much he loved him.
Luke 6:12 says, " It was at this time that He went off to the mountain to pray, and He spent the whole night in prayer to God."
Luke 5:16, "But Jesus Himself would often slip away to the wilderness and pray."
Jesus was the son of God and desired a relationship, was in constant communication and had deep faith.
He states in John 11:22, ""Even now I know that whatever You ask of God, God will give You."
We have the same connection to God, with the same level of relationship.
In our verse of the day, it finishes by saying, "And by Him, we cry "Abba Father."
Abba Father is a very comfortable, intimate term…not a stoic, stern or stiff relationship.
How comfortable are we with God?  Comfortable enough to call him daddy?  Is there a sense of immediate comfort when you pray to him or is it like a phone call with distant relative?  I will often say with my closest friends "I love that it's been months since we've talked and feels like we've picked up where left off."  There is something very deep with family and friends who are closest to you.  You desire to spend time with those you love, there's a craving to talk to them as much as you can…and to stay connected.  For those who are in your inner circle, you know what happens on a daily basis.  You ask questions of concern, love and support.  If you're in need, you ask for help, and advice.
How close are we to our own Lord, God our Father? The blessing?  He's always waiting for us to chat and share.
I love the verse from Psalm 145: 18-19, "The LORD is near to all who call upon Him, To all who call upon Him in truth. He will fulfill the desire of those who fear Him; He will also hear their cry and will save them."
Lord, thank you for adopting me into your family.  Thank you for choosing me.  Thank you that I have the same relationship with you as Jesus…in sonship. I desire to be close to you.  I want you to be my true best friend.  I want you to be the first person who share my struggles, my joys..my every day. Please forgive me for getting caught up in the world and not placing you as number one. Thank you for your patience with me.  Thank you for unconditionally loving me and being excited to talk to me no matter what time, where or what's going on in my life. You are my rock, my everything…my Abba Father.  I feel so blessed to have you in my world…and don't know what I'd do without you.